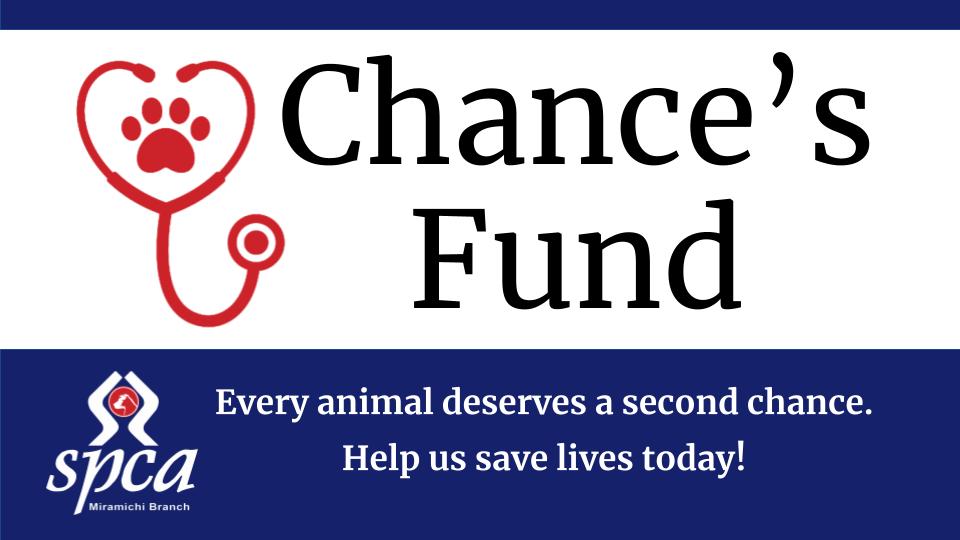 Chance's Fund is a new initiative started in 2023 to help raise money for our veterinary bills, named after a sweet little cat named Chance who is fighting to survive severe trauma. These bills are roughly 25% of our monthly operating costs, averaging almost $5000.
We need your help.
Chance's Fund will be a separate amount of money that will be designated to cats who are in need of extra help - such as surgeries, critical illness, and extensive vet care. Thank you to everyone who supports us and helps us continue to give cats like Chance, a second chance.
YOU CAN DONATE IN THE FOLLOWING WAYS:
Donate online through Canada Helps with our Chance's Fund form. You will automatically be emailed a tax receipt.
Send an e-transfer to - please include "Chance's Fund" in the memo along with your name and mailing address if you would like a tax receipt.
Call the shelter (506-622-0645) Monday to Saturday from 9am-3pm with a Debit Visa or a credit card.
Stop into the shelter in person, Monday to Friday from 9am-3pm, with cash, debit, or credit.
Mail a cheque to PO Box 177 Miramichi NB E1V 3M3.