Stay & Play Staycation Draw
Tickets are $25.00 each and they are available at the SPCA by calling 622-0645. E-transfer details below.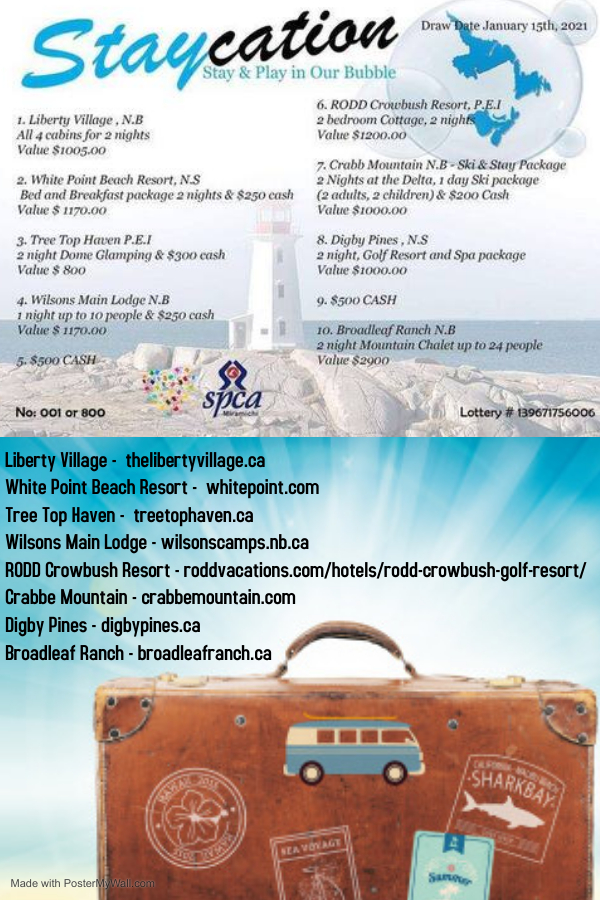 In order to maintain our NO KILL status we can not take Walk In surrenders. We are at Maximum Capacity daily and operate with a waiting List. In Case of an emergency please contact the Shelter.
We are not an Enforcement Agency and cannot investigate. Please contact NB SPCA for rural at 1-877-722-1522 and Tony Leblanc at (506) 210-1547 for issues within City Limits.
ADOPTION FEES & INFORMATION
It's hard knowing what to do when you're about to adopt. But, we make this process even easier when you adopt with us, because we have trained staff that will go over every possible question or concern you and your family might have on introducing your newest pal to the family.
Foster Homes
We look for foster homes willing to help us out when the need arises. If you can help, email us or call 622-0645.
FOSTER HOMES
​​We are in desperate need of foster homes. If you can help, 
email us
 or call 622-0645.
HOURS OF OPERATION
Tuesday - Saturday   
12:00pm - 3:00pm
Sunday and Monday: Closed